SKAGEN Global's new go-getter
On meeting SKAGEN Global's new multi-tasking portfolio manager, Tomas Johansson, two questions in particular are at the front of my mind: How does he fit it all in? And what is it that drives him?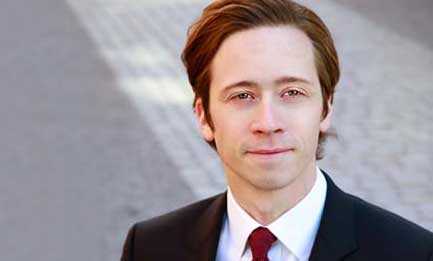 Many 60 year-olds would be proud to have accomplished as much as Tomas Johansson has already in his young life. At the age of 31, he has landed an enviable position on the portfolio management team managing the 3.5 billion euro equity fund SKAGEN Global. Prior to this, he was vice president at one of Europe's largest activist fund companies, Cevian Capital, which has over ten billion euros under management. He has worked in programming and creating video games in Copenhagen and has three Masters degrees: in Industrial Engineering from the Royal Institute of Technology, in Economics from the Stockholm School of Economics and in Law from the University of Stockholm.
With a love of travelling, Tomas has recently visited 35 countries in just 15 months. This included a three-month trip from Stockholm to Cape Town, mainly by public transport.
"The trip was an eye opener for me. My knowledge of African countries was based on things I had read and my own prejudices. The more I travel, the more I see that people are the same and basically want the same things, no matter where they live," says Tomas.
Multi-tasker
In hindsight, the trip to SKAGEN could be said to have started about ten years ago when Tomas Johansson moved to Stockholm to study Industrial Engineering. He made friends with students from the Business School there and they opened his eyes to the financial industry and the exciting job opportunities available. He did not give up his first degree, but joined the Business School in parallel. A year later, he also sought a place at the Law School, having got to know people studying law and gained an insight into their way of thinking. In the evenings he read Chinese.
Tomas Johansson says he never experienced any outside pressure to perform academically. No one in his family has a university degree, but he did well at school and it seemed natural to continue studying. The courses largely taught him how to learn new things – something that is valuable in the workplace, he stresses.
Triggered the hidden values
While studying, Tomas started to apply for jobs in the financial industry. The replies, however, were disappointing. Back then, in 2007, he was frequently told that there was too much time left of his studies, which if all went according to plan, would be completed three years later.
"It was then that I decided to take my exams in 2008. I wanted to start working!" says Tomas.
After completing his studies in the spring of 2008, Tomas joined Cevian Capital, one of the leading activist fund managers in Europe, led by financier Christer Gardell, just weeks before the Lehman collapse. There he became part of a group that managed a concentrated equity portfolio. Cevian's goal is to be a proactive owner in order to release hidden value in companies. The work gave him experience in the investment process in its entirety, from coming up with ideas for new investments, to analysing and, not least, having contact with companies.
Similarities
A central part of the work at Cevian consisted of maintaining a fact-based approach and it is expected that employees have integrity and stand firm in their opinions. He describes it as a good school for a young person. There are many similarities between the investment philosophy of Cevian and that of SKAGEN. They both focus on finding undervalued companies that can increase in value on the stock exchange. The difference is that Cevian makes major investments in a few companies that they work actively with, while SKAGEN makes smaller investments in many companies. A few of the companies that Cevian is invested in, such as ABB, Volvo and Danske Bank, can also be found in SKAGEN's equity portfolios.
A pipeline of ideas
After rigorous interviews and a process that lasted many months, Tomas Johansson joined SKAGEN in August 2015. Out of the many conversations he had with Knut Gezelius and the other managers of the SKAGEN Global team, there grew a reciprocal feeling that he would fit well in the team.
"Right now, I'm spending a lot of time on the development of new investment ideas. We have a good portfolio and a good pipeline of new investment cases. My contributions have so far included the security company G4S and the British bank Barclays. My strength is analysis; I want to understand how other investors think. Overall, I am driven by wanting to understand how other people think, seeing things from different perspectives," he says.
What is most important for an investor?
"To assess the potential upside of an investment is relatively simple, but it is important to weigh this against what can go wrong. I spend a lot of time trying to understand the risks. This comes from having worked with a very concentrated portfolio during the financial crisis."
Facts
The SKAGEN Global team is led by Knut Gezelius and the other members include Søren Milo Christensen, Chris-Tommy Simonsen as well as Tomas Johansson. The fund, which was launched in 1997, had assets under management of over EUR 3.5 billion as of the end of August. Read more about SKAGEN Global
Tomas Johansson says on joining SKAGEN: "This is a company with exceptional long-term results and a strong commitment to clients. There is an intellectually stimulating environment and a desire to constantly learn more and get better."