Meet SKAGEN's future CEO
Leif Ola Rød, an experienced Norwegian who has long had close ties to SKAGEN, will be taking on the role of CEO in the New Year.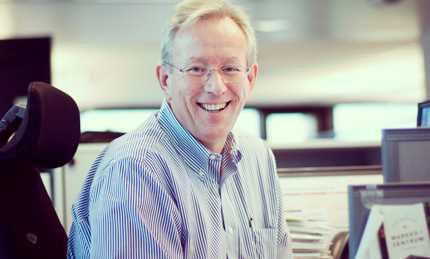 Three weeks ago, the headlines in Norway were briefly taken up with the news that a new CEO would be taking up the reins of SKAGEN in the New Year. The company's position as the Nordic alternative to the large global investment companies evokes both strong feelings and pride among Norwegians, not least in Stavanger where the company's headquarters are located.
Fund management in the blood
SKAGEN has chosen as its new CEO a candidate with an in-depth knowledge of SKAGEN and experience from fund management that few people from the sector can match. Leif Ola quite simply has a passion for the industry.
"Fund management has been a central part of my life for the past 20 years. As such the position of CEO of SKAGEN is a dream job for me. It's akin to being coach for a premier league team and I'll be working alongside some of the best fund managers and advisors in the business," says Leif Ola, who is already well acquainted with SKAGEN's employees. For the past two years he has been the company's Head of Business Support and Compliance.
Before joining SKAGEN, Leif Ola played a central role in the development of Norwegian fund management company, Odin. He started at the company in 1994, first as a Portfolio Manager and later as the Chief Investment Officer, before finally becoming CEO in 1998. During his 13 years with Odin he was instrumental in the company's growth and internationalisation. He now looks forward to putting his experience to good use at SKAGEN.
"I gave up my position as CEO of Odin in 2012 when the opportunity came up to work with the philosophy and values on which SKAGEN is based. I have known Harald Espedal for more than 13 years and closely followed the company for 20. Even when working for a competitor I have always had respect for SKAGEN. That is why this is an opportunity I could not pass up; I am looking forward to taking on the role."
Continuity and development
When Leif Ola takes up the reins on 1 January 2015, the positions of Investment Director and CEO will be split into two separate roles. SKAGEN portfolio manager and Dane Ole Søeberg will become the new Investment Director while Leif Ola will dedicate himself exclusively to the role of CEO.
"The advantage of splitting Harald's role in two is that as CEO I will have even more time to develop the business in SKAGEN and meet our clients and investors. I have no doubt that dividing up the responsibilities within the new management will benefit SKAGEN. I think that we are a very strong team that offers both continuity and new vision," comments Leif Ola Rød.
Clients will not be impacted by the change in management. SKAGEN's enduring investment philosophy, independence and Scandinavian values will continue to be the focal point for SKAGEN. Our objective will continue to be to deliver the best risk-adjusted returns to our clients. From a longer-term perspective, Leif Ola has great ambitions for SKAGEN.
"My main task will be to maintain and further develop SKAGEN's position as an independent-minded and contrarian fund manager in the Nordic region. As such I will no doubt carry a lot of responsibility under the ownership changes that we face. But I also have a long-term ambition to increase our international footprint even further," concludes Leif Ola.
Leif Ola Rød is 54 years old and has a Master's in Business. He lives one hour's drive south of Oslo with his wife. He has four grown up children, three of whom have moved out. As true Norwegians, the family spend most of their free time outdoors, either sailing or hiking in the forests surrounding their home. In the winter they spend as much time as they can skiing.