A fondness for tricky cases
The idea behind the SKAGEN Focus equity fund is a simple one: to gather together a few really good investment ideas from all over the world. Meet Jonas Edholm, one half of the new fund's management team.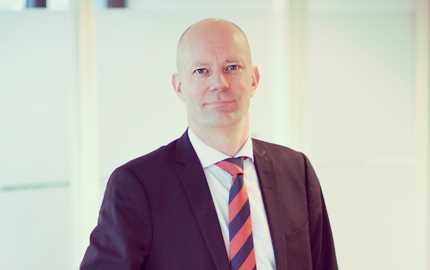 "SKAGEN Focus is an exciting fund to say the least, with its global, open mandate and concentrated portfolio. The signature image we have chosen for the fund, a hunting dog, sums up a great deal of what managing the fund entails: putting our hunting instinct, active management and energy to work," says Jonas.
How do you find investment ideas?
"It is a matter of wanting to continually learn new things and being curious. Like others, I gather impressions from what I read in the papers and what I hear through networks, during conferences and at the large number of meetings we have with companies each year. It is not uncommon for an idea to originate when we start looking at a company and then discover other related companies or competitors. And let's not forget the regular lively discussions with the other management teams within SKAGEN."
One of Jonas's hobbies is collecting but, when it comes to shares, the opposite applies. While he advises that you should never marry a share, he stresses that it is important to also be patient and tolerate fluctuations in share price along the way before the share manages to deliver its full potential. In time, you learn to recognise situations where seemingly small changes within a company or in the company's surroundings may cause fundamental problems. His most important advice is to try to only take the risks you will be compensated for.
"Risks are a strange thing. All things being equal, when the price of an asset falls, the risk level actually falls too while the upside increases. And when the price of the asset increases, the risk level also rises and the risk-adjusted potential deteriorates. Following the same line of reasoning, a quality asset can have such a high valuation that it becomes risky – and an asset of much poorer quality may be so cheap that it becomes 'safe'."
Tennis promise
A career in finance was not always the obvious choice for Jonas. During his teens, he played tennis five to six times a week and was part of a computer programming group.
But his father's work at Handelsbanken which entailed many trips abroad and an assignment at the bank's Hong Kong branch generated an interest in finance and working abroad. While studying Economics at Uppsala University, he spent a few terms at universities in Glasgow, Scotland and Toulouse in the south of France. He later wrote his thesis on the management company, Wasa's, fund range and was offered a position there after graduating. He began as a risk analyst by building analysis models for handling large quantities of data.
Three crashes later
After a few years at Wasa/Länsförsäkringar, the opportunity he had been waiting for emerged. Right at the peak of the IT bubble in 1999, he was involved in setting up Länsförsäkringar's capital management unit, LF Capital, in New York. The subsequent IT crash provided important experience:
"The extreme rise and subsequent extreme fall fascinated me and made me even more conscious of how important it is to understand risks and risk-taking. Three stock exchange crashes so far during my professional life have taught me that you will never have learned everything there is to know in this business. It is vital to have a humble attitude when it comes to the market. Investments are complex things, but that is precisely what provides the stimulation and challenges," says Jonas.
In 2002, LF Capital was sold to ABN Amro and all employees were laid off. Together with a few colleagues, Jonas travelled home to Stockholm and started up Sweden's first so-called market-neutral fund. The idea was to buy and short sell companies in pairs to mitigate the risks. Jonas states that hedge funds are now often associated with a high level of risk-taking but that the fundamental meaning of the term 'to hedge' actually involves protecting against risks.
Where no one else is looking
Jonas describes himself as a contrarian through and through. When the market flocks around certain companies, he looks for bargains elsewhere. It is about buying something that is unexplored, that the market, perhaps unjustifiably, ignores but that could increase in value. He shares this value-based investment philosophy with his SKAGEN Focus colleague, Filip Weintraub. The two met in 2011 in New York when Filip was recruited to LF Capital.
This was the start of a partnership that has endured. Together, they founded Labrusca Family Office in 2010, a company that managed global equities until 2014.
"Filip and I work well together and complement each other. We have the same idea base with regard to which kinds of company are interesting. We both have a fondness for more complex situations – often companies where there is a great deal of potential for repricing."
"We are a close-knit team, ready for a flying start," says Jonas.